Around the world in 80 days—err, or an undisclosed amount of time. Yeah, let's just go with that. I'm forward deployed on an aircraft carrier and to be completely honest, I can't say that I'd rather be anywhere else.
Deployment thus far has been the experience of a lifetime. I've met amazing people from all over; Haiti, Ghana, Togo, the Virgin Islands, and even … Wyoming. As much as I am a fan of diversity, thus far, in my life, I haven't done much stepping out of my comfort zone. My friends are very much girls of a feather—not to be confused with birds. We all have the same principles, at our core, and that's why Camarilla Complex made so much sense to us all. We empower each other so it only made sense to share the wealth.
I digress … The people I have met out-to-sea may at one time been anything but my "cup of tea," so to speak, but when you're in London, do as the Londoners do and sip, right? So I did!
The first port-of-call my ship made was in Portsmouth, UK., just a few hours from London. We anchored right outside of the bay because our aircraft carrier is way too large for the port to accommodate. In order to get to shore, we had to take a ferry from our floating city into town.
The first day there was a "movie!" But no, literally, I filmed it! We took a "coach," into London but by the time we got there it was nightfall so we didn't do much sightseeing. We did, however, go barhopping. Whodda thunk? A bunch of sailors, drinking … how innovative!   Maybe not but for me, it was a night of firsts. First jӓger bomb, first bar crawl, first Jameson shot, first IPA—wait, did I even go to college?!
I really did enjoy myself though! I was nervous going out to sea because the male-to-female ratio is pretty disproportionate, not to mention the minority numbers but I was pleasantly surprised!
The next day, we went to see Buckingham Palace. We must've walked twelve miles that day—as a matter of fact, we did … my watch said so. It was well worth the walk! We saw the London Eye, Big Ben and I even got to pick up a Pandora charm for the bracelet my aunt bought me for deployment. I'm collecting charms at each port to represent all the places I've been.
We ended the day with … you guessed it, more pubs and bars! That night was short lived because we all had to be back to the ship for duty the next day.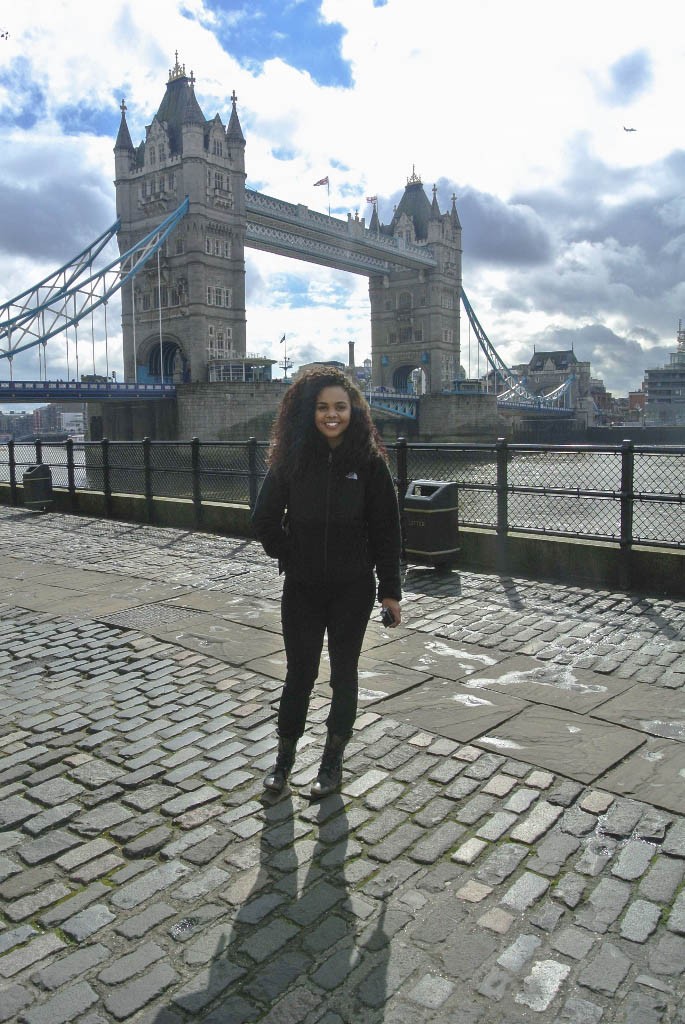 After a day of duty, the last day we spent in London was the one filled with the most amazing memories. Priceless moments. We took our time; woke up late, had brunch with bottomless mimosas and the best cappuccinos I've ever had. The best place, hands down, to visit in London is St. Paul's Cathedral—religious or not.
There's so much history there and it was absolutely beautiful. We trekked 365 steps to the top to overlook the cityscape with the London Eye, London Bridge and Tower of London right within eyeshot. We practically sprinted to the top because they were closing. The workout was met with immediate gratification when we finally got to the top. It all came together so perfectly. Our senses went into overload. The feel of the smooth marble architecture, the breath-taking sight of the Victorian artwork and the angelic sounds of the live chorus singing below, echoing its way to the top of the dome as we looked out over the city— it was surreal. It really felt like stepping back into time.
The time we spent quickly came to an end and before we knew it, we were back at sea to tackle the next adventure—the mission. As we passed through the Strait of Gibraltar the following week and as I stood on the flight deck staring into the bright cobalt-blue Mediterranean Sea … I couldn't help but feel proud about why I began this journey in the first place. I've definitely had days where I've questioned my career path but these memories are the makings of the stories I will tell my kids, my grandkids and great-grandkids to come. I couldn't be more grateful for these moments.
With a few experiences down and a lot more to go, I'm out to make this rare around-the-world tour something for the history books.
It's already written—I'm just here to share the journey, with you.
Comments
comments