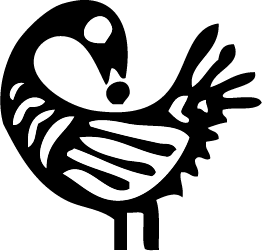 SAN: to return KO: to go FA:
to seek and take
When you know better, you do better. Sankofa is an Akan word (originally a symbol) that translates as "return and collect it." The concept reminds us to search through the past and to bring back lessons, principles and stories as seeds for the future.  To reach back and gather the best of what our past has to teach us. To dive into our depths — remembering the most prized attributes and values of those who've paved the way. To look inward to remain congruent with our true purpose in life. In the name of Sankofa…
It's important:
• To tie loose ends and relearn things we
thought we knew.
• To remember what our forefathers achieved.
• To remember what's possible once we fully equip ourselves to move forward.
With West African origins and a concept of self-preservation for the sake of shared preservation, SANKOFA represents reflection, future and love. Back in 2014, we created the Sankofa Challenge. We're back at it again! This time, we're bringing you programming to inspire you to challenge YOSELF.
"Remembering our past, to protect our future"SANKOFA (Proverb)
#CCSANKOFA WEEK 2017
Gotta know the real meaning
Sound legit?
Don't fall victim to FOMO
We'd hate to miss you! Add us to your Google Calendar to get premier access to content and programming ⚡️
Tack it
Comments
comments